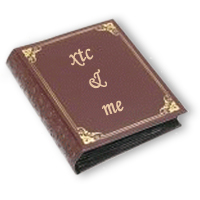 Photos of yourself with XTC?... send 'em along and I'll add them to the link above.
Mrs. Progress:
Got a phone call the afternoon of May 18, 1989. "What…XTC are where/when?" Charlotte was where (may as well have been my own back yard) and when was pretty much RIGHT NOW! Armed with my beloved import CD of Mummer and a thousand questions I busted ass in the direction of WRFX.
Hammered into the parking lot in time to catch a glimpse of the band walking in the door with instruments in hand. (Which is actually quite illegal here in North Carolina) Turned out the station wasn't as interested in an audience as I'd hoped. They'd been running promo spots for the appearance all week and had given away three day-passes for the gig. I was too late. If only WRFX hadn't sucked like only a southern rock format radio station can, then I may have caught wind of the gig in time to toss my blue beret into the ring for it. As the reality of having no plan B bitch-slapped me I heard my name. Adam Jackson was an old friend from school and just happened to be working an internship at the station. I worship him to this day.
Two of the three winners were already seated in the lobby and I joined them. Sadly, neither shared my passion for the band. Still and most importantly, both had won copies of Oranges and Lemons and seemed to enjoy the music. Luckily for me the third chap never showed and I was allowed to jump into his spot.
We spent a few hours with the lads, munching on stale snacks around a conference table and asking questions galore. I recall one of the contest winners asking Andy "What in the world is the song Pink Thing about? Is it a monster?" Oh my, as if Andy Partridge requires a straight man. I sensed the wheels turning in Andy's brain…but the chap was quite young so Andy put the brakes on. He just laughed saying "You'll have to figure that one out for yourself."
Although I wore my coat of many questions I'll never forget my first one; "what the hell is OXO?"
Although the studio was cramped and the conditions poor, XTC performed quite well. This was the only (as far as I know) radio tour gig that featured a Dukes tune. People magazine had some folks in the studio and snapped some shots of the band while they did a bit of a bullshit shuffle for 'em that eventually morphed into a portion of Collideascope. (I'd love to have a copy of this People article... contact me if you can help)

I got my copy of Mummer (still my fave XTC album… don't care what you say) signed by the lads and watched them autograph a shload of other things… including a paper plate for a good friend I've sadly not seen in many years. I was even quoted in an article about XTC that was printed in North Carolina's Charlotte Observer newspaper... so I had proof I was there! Interestingly enough, while they were in town they were interviewed by a writer for The Music Monitor magazine... years later I found myself writing for them and interviewed Andy on behalf of 'em in '99. The finger is indeed fickle...
XTC was the band that mattered most to my twenty-two year old ears and remain my one true love in music to this day.
Regrets? Should have taken a damn camera with me.
Think I'll drink my OXO up...
wesLONG