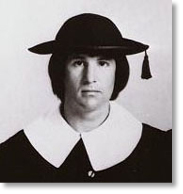 The Four Aces were short-lived, and Dave - inspired by an early exposure to Jimi Hendrix - in 1968 formed Target, a loose collection of like-minded friends. Target changed their name to Pink Warmth in 1968, around the same time that Dave first met another young guitar player, Andy "Rocky" Partridge, at St. Peter's Church youth club in the Penhill district of Swindon.
"We began to see familiar faces returning to those ramshackle evenings," Dave later said of their newest fan, "not least of which was a skinny little kid with a deathly white pallor, tasseled suede jacket and hair cut just like Peter Tork from The Monkees."
In 1969 Dave and Alan joined drummer Tony Climpson to form blues trio Catfish. The group's lineup was later augmented by singer Rod Sheppard and, after installing Dave's friend Terry Jackson as manager, they changed their name to Orange. After Orange fell apart Climson joined another local outfit, Stiff Beach, featuring the burgeoning talents of one "Rocky" Partridge.