AP: Companies would try and interfere. Notably American companies, actually. When we did English Settlement there was a big complaint from - oh God, who had English Settlement? It wasn't Geffen. Who was it? Was it Epic?
WL: Probably Epic
AP: I think it was Epic. They complained to Virgin, saying that, "This doesn't make any sense." They didn't like the fact that it was just this kind of textured green with this Iron Age hill carving. [White Horse Hill, Uffington] And they sent back mockups, two mockups of how they wanted to see it. And I don't know why I didn't keep them because they were so comical.
WL: [laughs] What were they?
AP: I think one of them was - they'd obviously gone with this concept of the horse. But that wasn't strictly the concept. The concept was, it was a local kind of marker.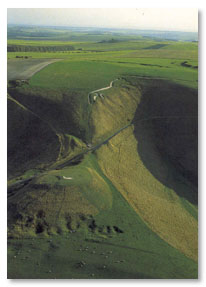 Click image to view in full.