lot of peoples minds Barry was the sound of the band. He was - if not the look of it, certainly that slightly space-age fun-fair kind of sound. Which, you know I was really keen on as well. And when he left, it was like - whoops, there goes the sound of the band. What are we gonna do now? It was time to reinvent ourselves. So the highly colored sort of primitive cover was reinvention, it was time to reinvent. And TOTO went ahead and stole that, and got an award for it. [laughter] You know TOTO?
WL: Oh yes, definitely. I know the album you're…
AP: Yeah, the sleeve where the letters TOTO make a face? I think they got an award for that. But sometimes, in these books of the greatest album covers, you see things like Drums and Wires or Black Sea. And you know, Shitzo here never gets credited. It's always - Jill Mumford - was she the person who cut out the colored paper? I think that was her name.
WL: The names are coming back to you.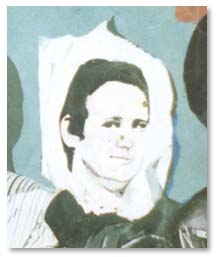 Ring in the new. Dave's face replaces Barry's on the Swindon mural. Click to view in full.